alto saxophone and piano | 12 mins.
Published by Tenuto Publications
Sheet music available from SheetMusicPlus
Recording available on iTunes & Amazon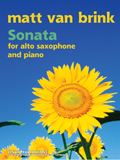 Recording (first movement) by Noah Getz, saxophone & Andrew Simpson, piano
Sonata for Alto Saxophone and Piano was written for saxophonist Maria Dessena. Each of its four movements navigate a different terrain. The insistent rhythm of the first movement gives way to a lilting twelve-tone tune in the second. The third movement is a meditation on skip and steps, and the fourth sums things up, quoting from the other three before evolving into something new.
First performed by Maria Dessena and Matthew Van Hoose
April 2000 Auer Hall, Indiana University, Bloomington
All music