SATB chorus a capella | 2 mins.
setting of waka texts by Sone No Yoshitada
Published by Hayo Music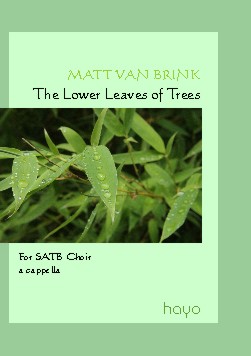 Text adapted from poems by Sone No Yoshitada
The lower leaves of trees
Tangle the sunset dusk
Awe spreads
With the summer twilight
On the holy mountain.
We gather from the sacred tree
Now in the fourth month
Oak leaves,
Old leaves
Are nowhere to be found.
Jewels of water
Wet nothing now
TEXTS: 1) by Kenneth Rexroth, from ONE HUNDRED MORE POEMS FROM THE JAPANESE, copyright ©1976 by Kenneth Rexroth. Reprinted by permission of New Directions Publishing Corp. 2) by Thomas McAuley, copyright ©2012 by Thomas McAuley. Reprinted by permission of the author.
First performed by San Francisco Choral Artists, Magen Solomon, director
June 2006, Oakland, California
All music