a musical for young audiences| 45 mins. (4M, 4W)
Book, music & lyrics by Matt Van Brink
Additional dialog by Jennifer S. Greene
"Purple Martins' Majesty"
"Big Brown Bat"
"Falling With Grace"
"Beaver Dam"
"At Least We're Eastern Mud Turtles"
"Awesome Opossum"
"Eastern Tiger Salamander Adventure"
"Carrot Farm"
"Animal Estates" (reprise)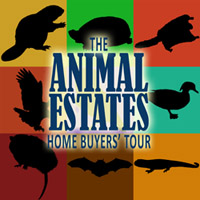 A purple martin returns to New York after his yearly migration, and enlists the help of a rabbit realtor at Animal Estates Realty to find the perfect home. But the rabbit shows him the habitats of other animals ... and ones that are already occupied! It's fine to meet the neighbors, but this bird's got to make a nest!

The first songs from The Animal Estates Home Buyers' Tour were developed for an Artist's Choice / Artist's Voice event at the Whitney Museum during its Biennal in 2008. Artist Fritz Haeg developed a set of model homes for local animal clients ("Animal Estates") in the sculpture garden of the museum, and invited musicians, dancers and activists to present within the space. Fritz Haeg has gone on to develop new Animal Estates at museums and galleries around the world, each time building homes for the critters local to the region. Haeg asks us to consider the animals whose homes we have built our cities upon, and to think of how they continue to live around us.
In 2008, I developed the Home Buyers' Tour at Concordia Conservatory's Summer Musical Theater Workshop, utilizing our cast of 24 elementary school students singing in families, herds, and packs. Since then, it has puffed up with songs, shed down its cast, and displayed its colors on stage and in schools.
First performed by Concordia Conservatory Musical Theater Workshop
17 July 2008, Sommer Center, Bronxville, NY
All music