SSAATTBB chorus a cappella | 4 mins.
setting of Be Music, Night by Kenneth Patchen
Sheet music available from Hayo Music
Commissioned by C4.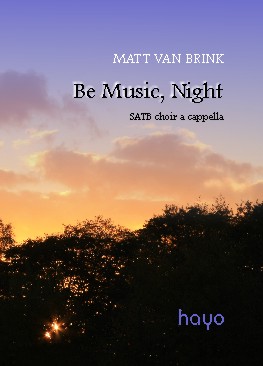 Certain prayers read like beautiful poems as much as paeans to God. In his love poems, Kenneth Patchen (1911-1972) invokes God through a surprising variety of images. Patchen did not seem to be a religious man, yet his work is sprinkled with this Godly imagery. And it is putty for his lyrical expressions of love.
First performed by C4, March 2011
Text used by permission of New Directions Publishing.

All music