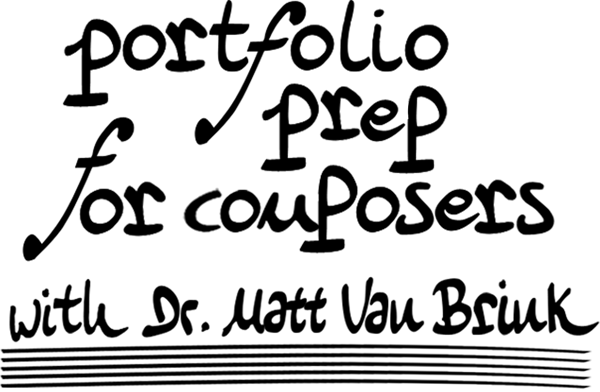 An interactive workshop for composers & songwriters


Improve composition portfolio & interview skills
Refine notation technique & learn self-publishing tools
Explore music theory, perception & art
Build a network of colleagues & peers
Live group lessons, 3-7 students per class
Multimedia-focused online classroom & remote learning
25 hours of training, 2.5 hours per lesson
Summer: Two weeks of daily lessons, with clausura week for independent work
Fall & Spring: Weekly lessons

Portfolio Prep for Composers will strengthen your notation skills, improve your scores and application materials, boost your confidence and provide you with a competitive edge. Students in this virtual classroom and studio enjoy coaching and mentoring with an experienced educator and artist, as well as connecting with a network of peers and fellow musicians. Instructor Dr. Matt Van Brink has twenty years of expertise as a teacher and professor, composer, lyricist, performer, administrator and music publisher. His students have been accepted to elite undergraduate institutions and renowned festivals, and they have received awards, commissions and fellowships for their outstanding work. Each session comprises 10 group lessons, conducted live online and limited to 3–7 students, facilitating both camaraderie and individualized attention.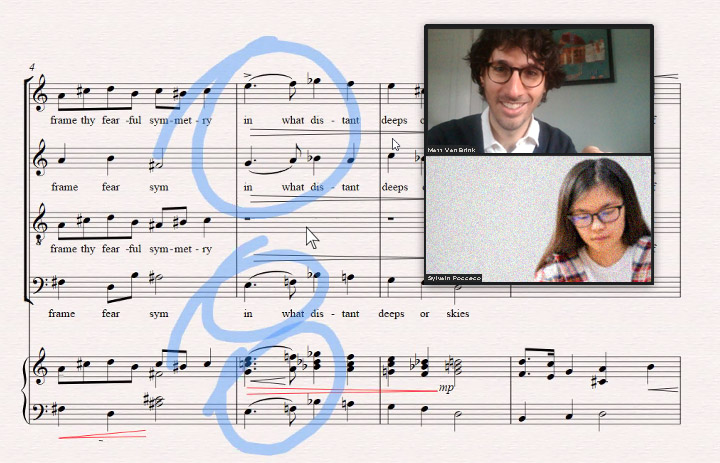 "Dr. Van Brink's years of success as a composer, combined with his dedication to educating and mentoring college and pre-college musicians, give him the knowledge and experience that make this workshop so essential, improving your skills to gain advantage in this increasingly competitive field." M. Kennedy
"Matt is a brilliant composer and equally brilliant teacher whose lessons are filled with great musical advice, historical references, notation suggestions, and an abundance of wit to boot!" B. Reeder
SESSION 1 – begins Sunday, June 14
Week 1: Sunday, June 14 – Friday, June 19
Week 2: Monday, June 29 – Thursday, July 2

SESSION 2 – begins Sunday, June 21
Week 1: Sunday, June 21 – Friday, June 26
Week 2: Tuesday, July 7 – Friday, July 10
SESSION 3 – begins Sunday, July 12
Week 1: Sunday, July 12 – Friday, July 17
Week 2: Monday, July 27 – Thursday, July 30

SESSION 4 – begins Sunday, July 19
Week 1: Sunday, July 19 – Friday, July 24
Week 2: Monday, August 3 – Thursday, August 6
FALL – begins September 14
Monday evenings
SPRING – begins January
Schedule to be determined
Private lessons in composition, songwriting & music theory
Recordings: Hear your works performed by professional musicians
Portfolio Prep for Composers: $1250 per session (10 lessons)
Private lessons in composition, songwriting or music theory: $125 per hour
Recordings: Variable
Scholarships available for reduced tuition
To apply, please send the following in an email to mattvb@gmail.com
Two recent compositions in PDF, Sibelius or Finale formats
If available, recordings of the same pieces
A list of your compositions and description of current projects
A resume or short biography
Application deadline for Summer Sessions 1 & 2: Monday, May 18, 2020
Application deadline for Summer Sessions 3 & 4: Monday, June 1, 2020
Application deadline for Fall Sessions: Monday, August 10, 2020
There is no fee to apply


"Dr. Van Brink has the ability to engage with students while gently pushing them beyond their comfort zones. He is effective in identifying each student's skills to help them cultivate their creative expression." E. Politi
"Don't. Miss. This. Matt's experience as an award winning composer, versatile performer and dynamic music educator provides him a treasure trove upon which to draw, especially when mentoring college-bound students." R. Redmond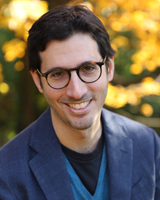 Composer, songwriter, educator, and performer Dr. Matt Van Brink is a musical pluralist who can bridge Kern and counterpoint, Sondheim and serialism. He has composed and arranged over eighty works for a variety of ensembles across many genres and his catalog includes orchestra, chamber, and solo instrumental pieces, choral and vocal compositions, plus musical theater, music for young performers and audiences, and arrangements. Van Brink leads the Composition & Songwriting department and teaches piano at Concordia Conservatory in New York, where he mentors students of all ages to become professional musicians and musical citizens. With his guidance and advocacy, his composition students have been accepted to the country's best conservatories, participated in prestigious summer programs, and received national awards. Van Brink was himself mentored by luminaries such as pianist Jeremy Denk, composers Lukas Foss, Samuel Adler and John Harbison, and cognitive scientist Douglas Hofstadter. He holds degrees in music composition from Indiana University and Boston University.